Roll over image to zoom in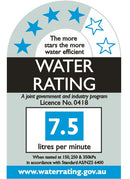 Description
Perfect for a new bath or for a renovation, the Modern Basin Mixer lends exceptional styling. And because it's from Della Francesca, you know you're getting exceptional quality.
The clean straight lines of this basin mixer, lever and back plate — along with a brilliant chrome finish — are ideal for any modern bathroom. The accessory has a height of 100mm and a width of 220mm. The tap extends out 173mm.
This basin mixer is WELS-rated and WaterMark certified, ensuring your purchase meets Australia's requirements for water efficiency, health and safety. Installation is straightforward, and all hardware along with easy-to-follow instructions are included.
Don't delay; your new-look bathroom starts with the Modern Basin Mixer.
Features of the Della Francesca Modern Basin Mixer:
*Clean and modern design
*Brilliant chrome finish
*4-star WELS rating; water efficiency of 7.5 Litres per minute
*WELS-rated and WaterMark certified
*Height of plate: 100mm
*Height of lever: 100mm
*Width of plate: 220mm
*Distance from tap to lever: 120mm
*Length of tap: 173mm
*Easy-to-follow installation instructions and hardware included
WELS Licence No: 0418
WELS Code: 101.36.01
Package Content:
1 x Basin Mixer Tap Bathroom Kitchen Laundry Faucet
Payment & Security
Your payment information is processed securely. We do not store credit card details nor have access to your credit card information.