Roll over image to zoom in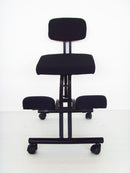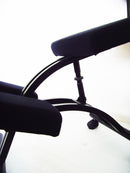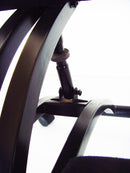 Description
If you work in an office for long hours at a time, you know that the pressure on your back, neck, shoulders and hips can be uncomfortable or even unbearable. The Ergonomic Office Kneeling Chair was specifically designed as a solution to alleviate just that type of unpleasant and unhealthy pressure. And it can be yours at our great everyday low price.
The kneeling chair works by altering your body position such that your posture markedly improves and your spine benefits from proper alignment. Your hips will be gently eased forward, taking the pressure off all the "trouble" spots that can ache after a long day at the office. With better posture and body position, you'll feel a lot better at the end of the day.
The kneeling chair is made from a durable, quality materials, and is fully height-adjustable to conform to your body. Wheels keep you mobile, and you can lean back on the backrest for even more day-long comfort.
Don't settle for less. If the standard office chair is just not cutting it, depend on the Ergonomic Office Kneeling Chair. It's the science of sitting!
Features of the Ergonomic Office Kneeling Chair:
*The right body position for perfect posture and alignment
*Alleviate pressure on the neck, shoulders and spine
*Made from durable, quality materials
*Colour: Black
*Dimensions of 57 x 47 x 88-106 cm (L x W x H)
*Seat dimensions of 43 x 31cm
*Package weight: 9.25kg
Package Content:
1 x Ergonomic Kneeling Chair
Payment & Security
Your payment information is processed securely. We do not store credit card details nor have access to your credit card information.