Roll over image to zoom in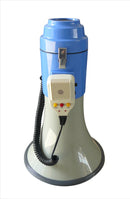 Description
This versatile and durable device has multiple applications. The powerful megaphone can be heard at the far ends of a large sports field. Its size and weight make it easy to handle and carry. The conveniently located built-in trigger at the rear of the device activates the microphone. Using this megaphone, your message can be heard up to a mile away.
The pistol grip handle of the microphone has an ergonomic design for safety and comfort. A highly sensitive volume control gives you complete control in adjusting your volume level to suit your specific needs.
This light-weight and cord-free device provides flexibility and mobility. The high quality of the unit provides sound clarity. When you need to get everyone"s attention, you can engage the megaphone"s built-in siren. The device"s shoulder strap enhances the safety and mobility of the unit. A ten-second integrated audio memory for voice playback is included in the megaphone. 8 size C battery is all that is required to power the unit.
Features:
Comfortable and balanced pistol grip handle
Shoulder strap for ease in carrying
Strong and lightweight ABS construction
Siren built in
Voice recording capability
Press-to-talk switch
Quality sound - anti-howling microphone
Power: 25 Watts
Distance: 0.5 - 0.7km
Dimensions: 230mm x 340mm
8 C cells required
Weight (without batteries) 1.65kg
Specifications:
Frequency Response: Low 430-530HZ, H: 10.2-13.8KHZ (at 1W-3dB)
Distortion: 3% at 1W 1KHZ
S/N: 44-85dB at 1 1KHZ
Load: 8 ohms
Power: 20 Watts at 1KHZ, 10% T.H.D.
Rated Output: 9V/10W
Talk Current: 2.3A
Siren Current: 3.9A
Input Sensitivity: -37dB
Motionless State Current: 140-160mA
Siren Output Level (SPL): 105dB a 1m
Package Content:
1 x 25W Megaphone PA System Loud Speaker Voice Recorder
Payment & Security
Your payment information is processed securely. We do not store credit card details nor have access to your credit card information.