Roll over image to zoom in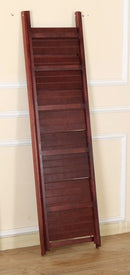 Description
Need an accent piece that will add character, yet do double duty for storage? The 5-Tier Wooden Ladder Shelf Stand by Randy & Travis Machinery is the perfect solution to your decorating challenges. Capable of holding lamps, books, collectibles, or other household items, this piece has the charm of an old-fashioned ladder, yet its clean lines are perfect for even the most modern décor.
You need not limit this stand to the living room, though. It's perfect for bathrooms to hold towels and guest soaps, or in kitchens to keep recipe books, bowls of fruit, or in front of a window stacked with fresh herbs.
This versatile stand flattens for easy storage, making it a great choice for seasonal décor as well. Crafted from easy-care MDF and chipboard, cleaning it is a breeze. Solve your decorating and storage needs with one great piece. Buy this 5-tier ladder shelf stand today.
Features and specifications:
Material: Chipboard and easy-clean MDF
Colour: Coffee
Tiers: 5
Dimensions: 41 cm x 36 cm x 150 cm (width x depth x height), with shelf depths from low to high 35 cm, 28 cm, 24 cm, 21 cm, and 23 cm
Special features: Props up against a wall or stands alone; folds flat for easy storage
Package Content:
1 x 5 Tier Wooden Ladder Shelf Stand Storage Book Shelves Shelving Display Rack
Payment & Security
Your payment information is processed securely. We do not store credit card details nor have access to your credit card information.