Roll over image to zoom in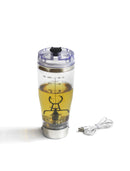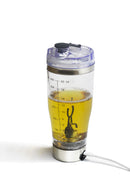 Description
Want to take your protein shakes along with you when you're on the go? With this rechargeable portable beverage shaker from Randy & Travis Machinery, you can. This BPA-free smart blender comes with its own USB cable so you can recharge it anywhere you have power—even in the car.
Made from sturdy stainless steel and durable acrylic, this shaker can stand up under even the most rugged conditions. It's easy to clean, too—a huge benefit if you're camping or hiking. Simply add your favourite dish detergent, some water, and turn it on. It'll churn up a foam vortex that will reach into every crevasse to clean it. Rinse with a little water—and you're done.
With its 600-millilitre capacity, it can handle a good-sized protein shake. Just pour in your liquid ingredient and press the power button. It'll create a vortex—a mini-tornado inside your shaker. Next, add the protein powder and wait for a half-minute. You'll have a delicious smoothie or protein shake to power your day.
Carry it in your gym bag or backpack without fear of spillage. Its leak-proof, hermetically sealed lid lock gives you complete peace of mind.
Features and specifications:
Material: Stainless steel and BPA-free acrylic
Colour: Silver and black
Capacity: 600 ml
Height: 24.13cm
Diameter (top): 8.9cm
Diameter (bottom): 6.35cm
Charging type: Rechargeable
Leak-proof
Easy to use and clean
Accessories: Rechargeable USB cable
Package Content:
1 x 600ml Electric Smart Portable Blender Protein Shaker Detachable Mixer Cup Bottle
Payment & Security
Your payment information is processed securely. We do not store credit card details nor have access to your credit card information.