Roll over image to zoom in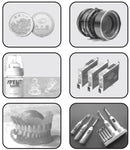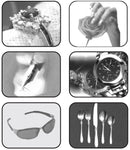 Description
Clean and shine your Jewellery to a professional, sparkling finish in the convenience of your home.
When it comes to cleaning your fine Jewellery, take advantage of the unharnessed power that ultrasonic waves can provide. Our ultrasonic Jewellery cleaner is a unique and cost effective way to add instant sparkle to your Jewellery.
The sonic waves create vibrations in the cleaning liquid that eliminates dirt, dust and smudges from the surface of Jewellery as well as from other cherished and delicate household items. The ultrasonic cleaner is safe to use and will not cause damage to your personal items. The automatic three-minute timer completely shuts off the machine in order to avoid over-use and damage.
This outstanding and effective cleaner is in a class by itself and works well on Jewellery, watch chains, stationery metal articles, dining appliances and personal things such as dentures, eye glasses and toothbrushes. The ultrasonic cleaner has a stainless steel interior and the capacity to hold up to 600ml of cleaning liquid. Your ultrasonic cleaner comes equipped with two additional plastic baskets to safely contain your items during the cleaning process.

Features:
· Perfect for Both Home and Professional Use
· Solid State Circuitry Quiet and Efficient
· Stainless Steel Tank with 600ml Capacity
· Ultrasonic Waves Provide Outstanding Cleaning Power
· Three-Minute Timer with Auto Shut-Off
· Transparent Cover
Specifications:
· Overall Power: AC 220 - 240V
· Input Power: 220 V
· Dimensions: 20 L x 12.5 W x 14 H cm
· Tank Capacity: 600ml
· Timer: 3-Minute Shut-Off
· Output Frequency: 42,000 Hz
· Package Contents:
o 1 Multi-Purpose Cleaner
o 1 Plastic Cleaning Basket
o 1 Watch Holder
o 1 Power Cord
o 1 User Manual
Package Content:
1 x Sonic Wave Jewellery Cleaner
Payment & Security
Your payment information is processed securely. We do not store credit card details nor have access to your credit card information.